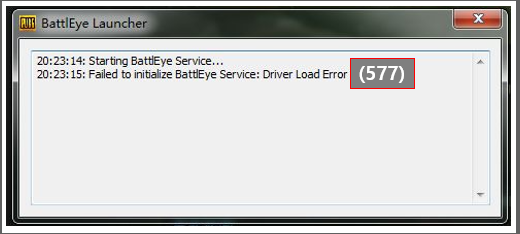 'Failed to initialize BattlEye Service: Driver Load Error (577)' can appear because of Windows security options that should updated.
We suggest the following solution for this error.
■ Update Windows 7 security options
Start menu > Control Panel > Windows Update > Update > Check for Updates > Install updates > Reboot PC after installation is over.
■ Update Microsoft Update Catalog to the latest version
https://www.catalog.update.microsoft.com/

You can download the latest update after visiting the above page. If the issue still persists,
please contact PUBG Support and provide us with a screenshot of the error.